Meaning of LIQUIDATION:
LIQUIDATION AND WINDING UP a company is the process whereby the company by itself is ended and its property is administered for the benefit of its members.
DIFFERENT MODES OF WINDING UP
THE DIFFERENT MODES OF WINDING UP ARE AS UNDER :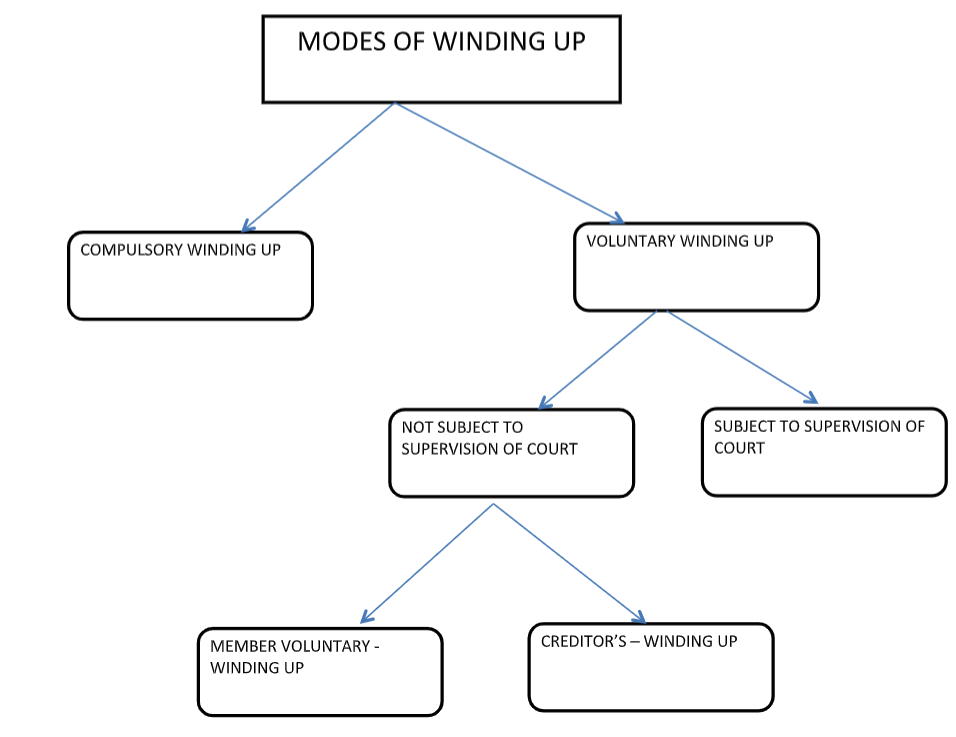 COMPULSORY WINDING UP U/S 433 TO 465
As per Section 433 of The Companies Act, an order may be passed by the tribunal for compulsory winding up of a company in the following circumstances:
Where the company has passed a special resolution resolving that it shall be wound up in court.
Where a company has made a default in holding a meeting or failed to deliver the statutory report to the Registrar;
Where the company failed to commence its business within 1 year of its incorporation or suspends its business for a whole year;
Where the number of members/shareholders is reduced below 7 in case of a public company or below 2 in case of a private company;
the company is not a position to pay its debts;
It is just and equitable in the opinion of the Tribunal to wind up the company.
Where a default has been made by a company in filing its Balance Sheet and Loss Account or annual return with the registrar, for any five consecutive financial years.
if the company has acted against the interest of the sovereignty and integrity of the security of the state, friendly relations with foreign States, public order, decency on
The tribunal is of the opinion that the company should be wound up under the circumstance specified in section 424(g).
VOLUNTARY WINDING UP U/S 484 TO 521
Companies may be wound up voluntarily:
(a) Bypassing, in the general meeting, an ordinary resolution.
When the period i.e. the duration for which the company was formed, has expired
When the event on which the termination of the existence of the company was dependent, has occurred.
(b) Bypassing special resolution to wind up voluntarily
Basically Voluntary Winding up may be of two types:

VOLUNTARY WINDING
Commencement of voluntary winding up.— On the date of passing of the resolution, a voluntary winding up shall be deemed to commence under 304.
Effect of voluntary winding up.— The company shall cease to carry on its business from the date of commencement of the winding-up, except it is required for the healthy winding up of its business. The company shall continue to enjoy its corporate state and corporate powers until it is dissolved.
Appointment of committees.— A committee as considered appropriate may be appointed by the company in its meeting or where there are creditors then in creditors meeting, to supervise the voluntary liquidation and to provide assistance to the Company's Liquidator in discharging his functions.
Company Liquidator to submit a report on the progress of winding up.